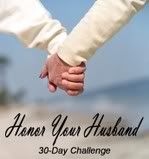 It's week 2 of the Honor Your Husband 30-Day Challenge. It's not too late to join- so if you want more information go on over and visit Christine at
Fruit in Season
. This week I am going to continue to work on my
goals from last week
. When I was trying to decide what my new goals would be, I used Christine's idea and I asked Rich what I could do better to honor him. Without hesitating he said, "Nothing." So, I asked him if I was perfect. He responded, "Yup, you're just right for me."

I thought about dropping out of the challenge since I am, you know, perfect. Then of course I realized that I am not perfect and that he was saying that because he thought there could be some consequences for being open with me. Which brings me to my first goal for this week:
Listen and respond to Rich in a way that makes him feel like he can be totally open and honest with me.

And if Rich was to be open with me I know one of the things he would want me to change is all of the nagging I do. If only I could train Rich to do things the first time I ask him, I wouldn't have to nag. So, my other goal for the week will be to stop some of my all of my nagging.