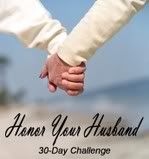 This week
Christine
is challenging us to make sure we are focusing on interdependence as opposed to independence in our marriages. She included this great quote on her post today:
Godliness is selflessness, and when a man and a woman marry, they are pledging to stop viewing themselves as individuals and start viewing themselves as a unit, as a couple. In marriage, I am no longer free to pursue whatever I want; I am no longer a single man [or woman]. I am part of a team, and my ambitions, dreams, and energies need to take that into account.
Gary Thomas,
Sacred Marriage
I will continue to work on my goals that I set before. You can view them here and here.
I will also be adding some new goals this week.
As Christine challenged, I will focus on us as a couple instead of myself.
I really need to work on my attitude towards Rich. I am going to try to act lovingly and positively in the way that I speak and in my body language.
I am going to spend more time with Rich. In order to do that I am going to have to cut back on my blogging. (I can hear you gasping in disbelief.) As a blogaholic this will be difficult for me. One rule that I am making is- no more blogging on the weekends. Weekends will be for family time only. If you are looking for my Sunday Seven you will not find it anymore. Instead I am going to join the Thankful Thursday group. It's basically the same type of meme but I will be able to do it on Thursdays instead of Sundays. I will also cut back on my evening blogging. Usually once Hailey goes to bed I blog until I go to bed. From now on, no more blogging after 9pm. I will do my blogging during Hailey's nap times, after my chores are done. So, if it seems like you are seeing little less of me around here- it's because I'm busy focusing on my hubby!